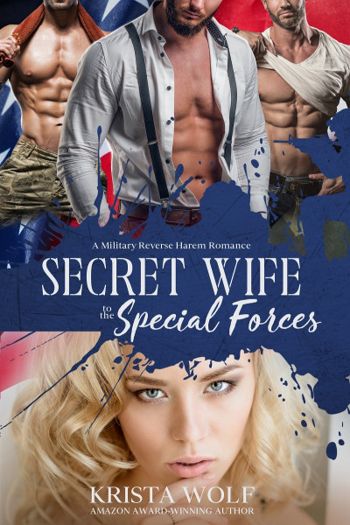 Secret Wife to the Special Forces: A Military Reverse Harem Romance
By Krista Wolf
$0.99
(Please be sure to check book prices before buying as prices are subject to change)
When my brother's hottest childhood friend calls to invite me out to Hawaii, I'm intrigued. But when I learn he and his two Special Forces roommates need me to act as a "wife" as well, what's a cold Minnesota girl to do?

Jace is everything every girl dreams about: six and a quarter feet of pure muscle wrapped in Green Beret camo and Army tactical gear. It doesn't hurt that his broad chest is decorated with a whole rainbow of ribbons and medals. Or that his two closest friends - Merrick and Aurelius - are also his brothers-in-arms, their inseparable bonds forged in the white-hot fires of combat.

But Jace needs a favor... and that favor requires me. His very freedom relies on a little white lie, and with the help of his roommates, we need to pull off the illusion of being a happily married couple.

Yet living with three ripped, gorgeous soldiers is fraught with its own set of perils. Merrick's a hotshot chopper pilot with shoulders for days, smoldering blue eyes, and a lady-killer smile. And Aurelius is a Navy SEAL with the chiseled build of a Greek god, as well as an accent so exotic it melts me into a puddle whenever I'm around him.

It turns out these boys need favors of their own, and I'm only happy to oblige. But they also harbor a butterfly-inducing secret: as with everything else in their closed little universe, this trio of soldiers likes to share.

Can a lonely Minnesota girl actually fall for her brother's best friend and his two incredible house-mates? Or is my secret "marriage" doomed to failure before the honeymoon even starts?

SECRET WIFE TO THE SPECIAL FORCES is a military reverse harem love story filled with suspense, humor, and love three times hot enough to melt your kindle into a bubbling pile of plastic and glass (author not responsible for molten kindles). HEA guaranteed!

Digital Books

Book Length: Novel – 150-320 Pages
More Books in this series from Krista Wolf
Leave a review about Secret Wife to the Special Forces: A Military Reverse Harem Romance. Login Now