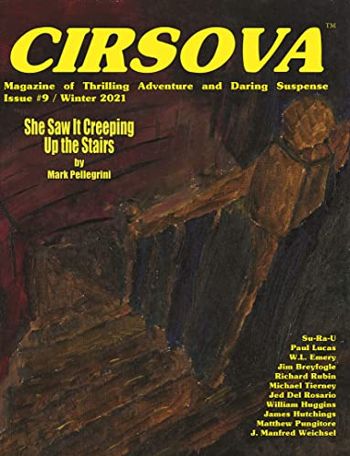 Cirsova Magazine of Thrilling Adventure and Daring Suspense Issue #9 / Winter 2021
By P Alexander
$3.99
(Please be sure to check book prices before buying as prices are subject to change)
For We Are Many
By PAUL LUCAS
Infinite universes are filled with myriad worlds of infinite possibilities—and infinite selves! One man hunts and is hunted across the multiverse, seeking absolution!
The Wreck of the Cassada
By JIM BREYFOGLE
The Mongoose and Meerkat have been hired to lay claim to the salvage of a wrecked ship… and will be partnered with none other than the Hand of Bursa!
Wychyrst Tower
By MATTHEW PUNGITORE
A strange find on a Caribbean expedition haunts the atavistic Dulf Abbandonato… Why would the family name of an old New England friend appear in the West Indies!?
She Saw It Creeping Up the Stairs
By MARK PELLEGRINI
Lisa and her mother have moved in with her grandmother! Grandmother is wheel-chair-bound, and Mom is in the other room… So who is walking around upstairs?!
Fail Early, Fail Well
By W.L. EMERY
Some projects are doomed to failure… Sometimes, it's better they fail sooner than later! It is Vinellius's job to ensure the worst of these projects fail just right!
Thorwynn Stapledon and "The Mellifluous Phoenix"
By SU-RA-U
It was supposed to be a drug-fueled science fiction anthology alleging to recreate the human brain! But what was the sinister truth behind The Mellifluous Phoenix?!
Harmonious Unity Burns
By Jed Del Rosario
The most diverse city in the Federated Alliance is burning! Riots and upheaval have necessitated the intervention of elite mercenaries—who is behind the chaos?!
My Name Is John Carter (Part 10)
By JAMES HUTCHINGS
[Editor's Note: Continued from Cirsova Vol 2. #6]
Stealing the Alchemist Stone
By RICHARD RUBIN
Burke Fletcher and his wife Llana have just absconded with an Alchemist Stone! But the baron they stole it from is not the only one who desires its arcane powers!
To the Sound of a Silent Harp
By WILLIAM HUGGINS
Harp, a deadly and addictive vidliq, will possess you forever—much like Cavan, the magnate who built his fortune on it! Ciaon, Cavan's errand boy, finds himself caught in a deadly web of deception—can he escape, or is he, too, a man possessed?!
Queen of the House
By J. MANFRED WEICHSEL
A door-to-door salesman promises a fantastic cleaning device that can get rid of anything and everything! But what can get rid of a salesman who won't give up?!
The Creation of Science Fiction
By MICHAEL TIERNEY
Digital Books

Book Length: Novel – 150-320 Pages
More Books in this series from P Alexander
Leave a review about Cirsova Magazine of Thrilling Adventure and Daring Suspense Issue #9 / Winter 2021. Login Now