Horseback Riding + Rock Climbing for Beginners: 2 in 1 Adventure Value Set Your Complete Set to Becoming a Professional in Horse Riding and Rock Climbing
Horseback Riding + Rock Climbing for Beginners: 2 in 1 Adventure Value Set Your Complete Set to Becoming a Professional in Horse Riding and Rock Climbing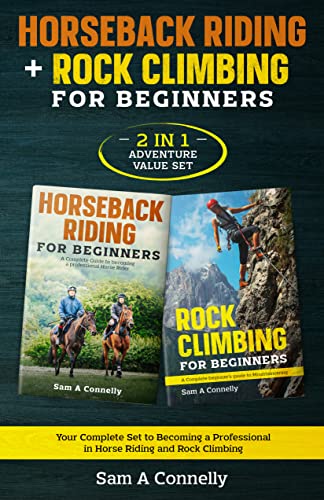 Horseback Riding + Rock Climbing for Beginners: 2 in 1 Adventure Value Set Your Complete Set to Becoming a Professional in Horse Riding and Rock Climbing
$1.99

$2.99

(Please be sure to check book prices before buying as prices are subject to change)

---
"Everything you need to know about your 2 in 1 Adventure Value Bundle"
Book 1: Rock Climbing for Beginners
Book 2: Horseback Riding for Beginners
In this Bundle, you will discover:
·        Basic terminologies in climbing
·        Various climbing techniques
·        How to train in readiness for climbing
·        How to transition into outdoor climbing
·        How to understand your Horse
·        How to prepare for a ride
·        Different riding styles
·        And much more…….
The step-by-step training in this book is so easy to follow that you will have success with it even if you have failed at every other hobbies you've tried.
Read More...
---
Paperback Books
---
---
Leave a review about Horseback Riding + Rock Climbing for Beginners: 2 in 1 Adventure Value Set Your Complete Set to Becoming a Professional in Horse Riding and Rock Climbing.
Login Now

© 2022 CraveBooks. All rights reserved