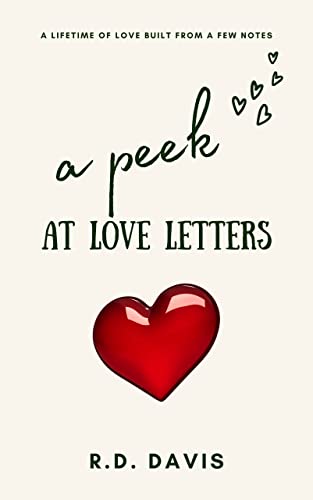 A Peek At Love Letters
By R.D. Davis
$3.99
(Please be sure to check book prices before buying as prices are subject to change)
Have you wondered how some couples who meet at an early age can stay married for forty, fifty years or more? One of the keys is communication, starting at an early age. If you meet your true love in high school and keep those flames burning, you will be forced to learn to share your feelings openly and freely. Hand written communications serves that purpose very well. A letter or simple note is something that will stay with you for years and years. Texts and social media could be lost or deleted when you purchase a new computer, phone or tablet.
The young couple in this book did meet in high school. There were several years of beautiful times together interrupted by the turmoil that young lives in love will go through. The letters contained in this book illustrate well how those times were dealt with. What you will read is based upon real letters written by a real couple. The names were changed to protect their privacy. For that same reason locations have been changed. Since these changed I am placing book under the fiction 
Grammar and punctuation may not be correct, overlook that, young love does not care about the rules of composition !
Digital Books

ASIN:
B09NFCL2CY
ISBN:
978-0578335094
Book Length: Novel – 150-320 Pages
Leave a review about A Peek At Love Letters. Login Now