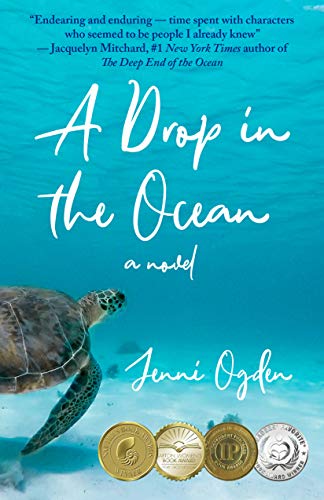 A Drop in the Ocean: A Novel
$1.99

$4.99

(Please be sure to check book prices before buying as prices are subject to change)

---
Anna Fergusson runs a lab researching Huntington's disease at a prestigious Boston university. When her long-standing grant is pulled unexpectedly, Anna finally faces the truth: she's 49, virtually friendless, single, and worse, her research has been sub-par for years. With no jobs readily available, Anna takes a leap and agrees to spend a year monitoring a remote campsite on Turtle Island in Australia's Great Barrier Reef. What could be better for an introvert with shattered self-esteem than a quiet year in paradise? As she settles in, Anna opens her heart for the first time in decades—to new challenges, to new friendships, even to a new love with Tom, the charming, younger turtle tagger she sometimes assists. But opening one's heart leaves one vulnerable, and Anna comes to realize that love is as fragile as happiness, and that both are a choice. 
"Endearing and enduring, time spent with characters who seem to be people I already knew."—Jacquelyn Mitchard, New York Times#1 best-selling author of The Deep End of the Ocean and The Good Son.
 "Poignant" —Ann Hood, New York Times best-selling author of The Knitting Circle 
Read More...
---
Paperback Books
---
Audiobooks
---
---

© 2022 CraveBooks. All rights reserved