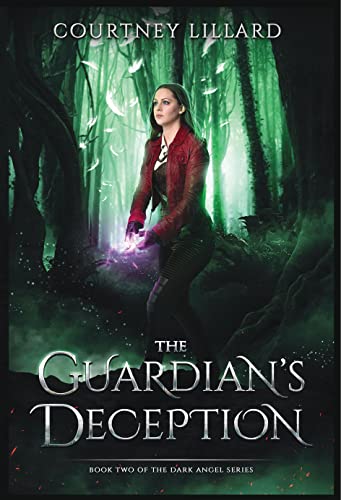 The Guardian's Deception
$2.99
(Please be sure to check book prices before buying as prices are subject to change)
If she reveals her bond with the demon, there is no hope for a peaceful life. People don't tolerate possession unless it benefits them, willingly or not.
Coura Galdwin struggled to find her future until an encounter with a pair of angels awoke something inside her. With the help of a wicked, unseen demon named Soirée, she was able to defeat the attackers and save her new friends. However, the consequences of using forbidden magic put her life at risk, especially when it draws the attention of Asteom's king and his council. Now she must pledge herself to the kingdom in order to prove her sanity while avoiding confrontations as she learns to wield the demonic power bound to her soul.
Underneath the personal struggles lie questions about the beings sent to kill her and her dark mage mentor. Why would angels from the legendary place known as Yeluthia attack the humans they swore to protect? Who could be controlling them and trying to sabotage the kingdom's attempts for peace? And worst of all, should Coura listen to the demon and continue delving into the malicious power?
*NOTE this book contains scenes of violence, mentions of blood, and murder.

Digital Books

ASIN:
B09BDFVJLP
ISBN:
0578939983
Book Length: Novel – 150-320 Pages
Leave a review about The Guardian's Deception. Login Now