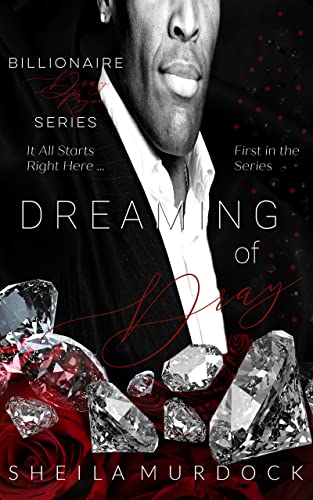 Dreaming of Dray: An African American Black Billionaire Romance Suspense Urban Fiction Series: Billionaire Dray Royce Series #1
$0.99
(Please be sure to check book prices before buying as prices are subject to change)
Billionaire bachelor Dray Royce is looking for a wife.
This is every woman's dream who's dreamed of being the one for him. The dream can now become a reality, but it will only happen for one woman. 
Eve Lyle has been single for over ten years but doesn't know if she wants to take the chance that millions of other single women are taking in hopes of making their dream come true, but knows that she has no chance if she doesn't take a chance at all. She struggles with what to do.
But when tragedy strikes, it brings to light some startling revelations into what went on during Dray's search for a wife, as well as opening up new possibilities and hope.
But there's a lot more to Dray—and his family—than most people will ever know, and all of the drama unfolds when he makes his choice of who he picks to date for the chance of becoming his wife, and this drama is way more than his choice will ever imagine.
Dreaming of Dray is the first book in the Billionaire Dray Royce series.
Digital Books

Book Length: Novel – 150-320 Pages
More Books in this series from Sheila Murdock
Leave a review about Dreaming of Dray: An African American Black Billionaire Romance Suspense Urban Fiction Series: Billionaire Dray Royce Series #1. Login Now