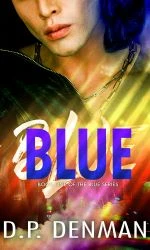 Blue
By DP Denman
$3.99
(Please be sure to check book prices before buying as prices are subject to change)
An early snow on the ground. A body
in the yard. It wasn't your average Monday.
What happens when organized discipline meets chaotic obstinance? Brady Halverson is about to find out! Successful and self-assured, he was used to being in control. Then Blue stumbled into his life.

Half frozen and near death, the mysterious young man thawed into a blue-eyed hurricane. Bursts of temper and flashes of despair batter Brady's efforts to calm the storm in a man he doubts he can tame. One drowning in the wreckage of his past.
Untangling Blue from the trauma requires careful steps and a lot of patience, but Brady has his own struggle: he's falling for someone he isn't supposed to love. Can he help Blue heal enough to love him back, or will the man that now owns Brady's heart break it?
Digital Books

ASIN:
B015ROY432
ISBN:
978-0-9896123-8-8
Book Length: Novel – 150-320 Pages