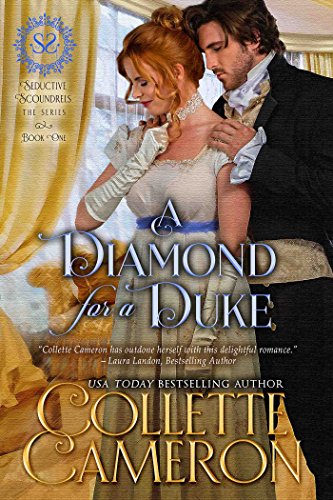 A Diamond for a Duke: A Regency Romance (Seductive Scoundrels Book 1)
$2.99
(Please be sure to check book prices before buying as prices are subject to change)
A dour duke. A wistful wallflower. An impossible match.
Jules, Sixth Duke of Dandridge disdains
Society and all its trappings, preferring the country's solitude and
peace. Already jaded after the woman he loved died years ago, he's
become even more so since unexpectedly inheriting a dukedom's
responsibilities and finding himself the target of every husband-hunting
vixen and matchmaker mother in London.
Jemmah Dament has adored Jules from
afar for years—since before her family's financial and social reversals.
She dares not dream she can win a duke's heart any more than she hopes
to escape the life of servitude imposed on her by an uncaring mother.
Jemmah knows full well Jules is too far above her station now. Besides,
his family has already selected his perfect duchess: a poised, polished,
exquisite blueblood.
A chance encounter reunites Jules and
Jemmah, resulting in a passionate interlude neither can forget. Jules
realizes he wants more—much more—than Jemmah's sweet kisses or her
warming his bed. He must somehow convince her to gamble on a dour duke.
But can Jemmah trust a man promised to another? One who's sworn never to
love again?
Digital Books

Book Length: Novel – 150-320 Pages
More Books in this series from Collette Cameron
Leave a review about A Diamond for a Duke: A Regency Romance (Seductive Scoundrels Book 1). Login Now