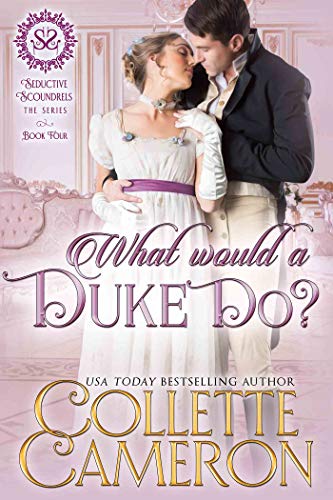 What Would a Duke Do?: A Regency Romance (Seductive Scoundrels Book 4)
$3.86
(Please be sure to check book prices before buying as prices are subject to change)
He's bent on revenge. She's his enemy's granddaughter. He'll marry her…willing or not.

Maxwell,
the Duke of Pennington is a man focused on one thing: revenge. He'll
stop at nothing to achieve his goal, including marrying the beautiful,
unpredictable granddaughter of the man he seeks reprisal against—whether
Gabriella is willing or not. As Max inexplicably finds himself drawn to
the spirited minx, unforeseen doubts and guilt arise.

Miss
Gabriella Breckensole is astonished when the enigmatic Duke of
Pennington turns his romantic attentions on her. Debonair and confident,
he set her heart fluttering from their first meeting. Far beneath his
station, Gabby never hoped to win his favor, and she soon risks losing
her heart to the roguish lord.

Until she accidentally overhears
Maxwell vowing to return her familial home to his dukedom and learns his
courtship is a revenge-filled ploy. Even though he awakened feelings
she never imagined possible, Gabriella now considers him an enemy. Can
Max make the impossible choice between retribution or forever losing the
only woman to ever touch his heart?

Digital Books

Book Length: Long Novel – 320-650 Pages
More Books in this series from Collette Cameron
Leave a review about What Would a Duke Do?: A Regency Romance (Seductive Scoundrels Book 4). Login Now