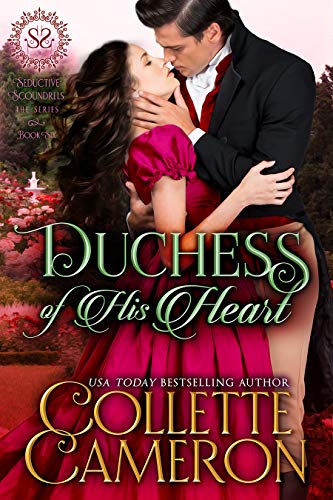 Duchess of His Heart: A Regency Romance (Seductive Scoundrels Book 6)
$4.86

(Please be sure to check book prices before buying as prices are subject to change)

---
He once loved her beyond all reason. Dare he risk heartbreak again?

Leaving her first love behind was the hardest thing Regine, Duchess of Heartwaite, had ever done. Her marriage of convenience to another man saved her family, even as it laid waste to her heart. That was years ago, however. Now widowed, she's ready to begin her life anew. But all it takes is one glimpse of her former sweetheart to realize the feelings she buried so long ago are still there, stronger than ever. Unfortunately, his feelings for her are decidedly colder…

Solicitor James Brentwood has only one mistress these days—his work. Being jilted by his betrothed taught him love simply wasn't worth the cost. But Regine is back in England now, more beautiful and alluring than ever. And it's not long before he begins to feel things he has no business feeling. Especially not for her. Not again.

But when a nemesis intent on destroying Regine emerges, it's James who must come to her rescue. Can they overcome their differences and painful past to claim their happily ever after? Or will their second chance at love end as disastrously as their first?

Read More...
---
Paperback Books
---
Audiobooks
---
---
Leave a review about Duchess of His Heart: A Regency Romance (Seductive Scoundrels Book 6).
Login Now

© 2022 CraveBooks. All rights reserved