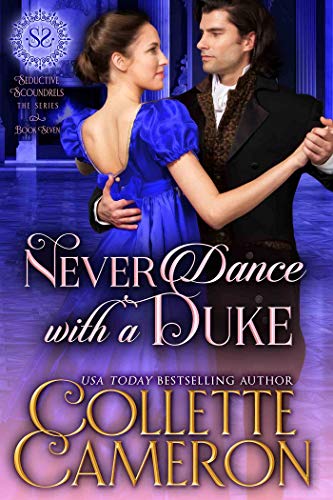 Never Dance with a Duke: A Regency Romance (Seductive Scoundrels Book 7)
$4.59

(Please be sure to check book prices before buying as prices are subject to change)

---
The cost of trust is more than she's willing to pay. But he'll do everything he can to change her mind…

A scandal ruined her future…
Nicolette Twistleton delights in thumbing her nose at Society. After all, becoming the Spiteful Spinster was what helped her through being jilted by her betrothed. Putting her faith in another man? Impossible. But there's something about the entirely too handsome and charming Mathias Pembroke that makes her wish she was the kind of woman who could learn to trust again.

A secret can destroy his…
Mathias, Duke of Westfall, wants nothing to do with his inherited title and all the public scrutiny it brings. He has dark secrets to protect, and can't afford to be distracted by the trappings of Society. What he apparently can be distracted by, however, is the lovely Nicolette. He understands her pain and knows he could help her heal…if only she were willing to open her heart to him.

Can love save them both?
When ghosts from the past emerge and threaten the fragile bonds they've begun to build, Nicolette and Mathias find themselves caught between their feelings for each other and devastating scandal. Will love be enough to protect them—or was their happily ever after doomed from the very start?

Read More...
---
Paperback Books
---
---
Leave a review about Never Dance with a Duke: A Regency Romance (Seductive Scoundrels Book 7).
Login Now

© 2022 CraveBooks. All rights reserved