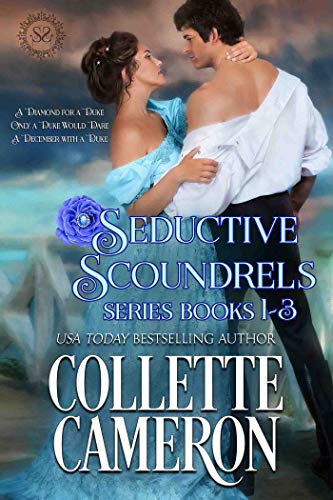 Seductive Scoundrels Series Books 1-3: A Regency Romance
$8.99
(Please be sure to check book prices before buying as prices are subject to change)
Because love, no matter how hard won, is always worth fighting for.
One
thing never changes from era to era—the longing for love and the
sacrifices willingly made to achieve a happily ever after. This special
romance collection includes THREE STORIES of dukes and their ladies;
each a charming and humorous Regency romance with a dash of mystery
& suspense.

A Diamond for a Duke: A dour duke and a wistful wallflower—an impossible match until fate intervenes.
Jules, the Duke of Dandridge wants more than Jemmah Dament's sweet
kisses or her warming his bed. He must somehow convince her to gamble on
a man who's sworn never to love again.

Only a Duke Would Dare: A reluctant duke. A vicar's daughter. A forbidden love.
Victor, Duke of Sutcliffe ventures home, intent upon finding the most
biddable and forgettable miss in Essex to wed. Except he finds himself
powerless to resist Theadosia Brentwood—even if she is promised to
another and the exact opposite of what he thought he wanted in a
duchess.

A December with a Duke: He's entirely the wrong sort of man. That's what makes him so utterly right.
After a horrific marriage, Everleigh vows to never marry again, but the
enigmatic Duke of Sheffield is determined to woo the beautiful widow
and make her his own.

These charming historicals by a USA Today
bestselling author will warm your heart and bring a smile to your face.
You might even giggle, and you won't be able to turn the pages fast
enough to find out what happens to the characters next. If you enjoy
emotional friends to lovers, enemies to lovers, Cinderella, or
wallflower love stories then you'll adore Collette Cameron's enticing
SEDUCTIVE SCOUNDRELS SERIES. Buy the collection and settle into your
favorite reading nook with your beverage of choice for rousing, romantic
adventures you can't put down.
Digital Books

Book Length: Long Novel – 320-650 Pages
More Books in this series from Collette Cameron
Leave a review about Seductive Scoundrels Series Books 1-3: A Regency Romance. Login Now