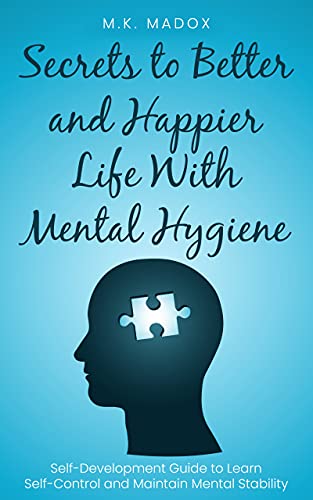 Secrets to Better and Happier Life With Mental Hygiene: Self-Development Guide to Learn Self-Control and Maintain Mental Stability
By MK Madox
Free
(Please be sure to check book prices before buying as prices are subject to change)
Learn How to Easily Implement Healthy Habits Into Your Life and Take Care of Your Mental Health!

Did you know that persons who have good mental health are happier and more successful in life?

Are you unhappy with your life? Do you feel like you can't get a grasp over your life? Do you think that you are stressed-out and anxious all the time?
Would you like to eliminate stress and anxiety and take back control?
If so, you are in the right place because this guide will take you on a self-improvement and self-development journey where you will learn the basics of mental hygiene and manage your mental health with ease.
Here is what this mental health guide can offer you:

Step-by-step guide to exercise proper mental hygiene

Carefully laid out a plan to take back control of your life
Tried-and-tested strategies to eliminate stress and anxiety
Expert tips and advice to maintaining mental stability
And much more!
Good mental health is the key to happiness and satisfaction, and it can be easily achieved with the proper guidance. If you are reading this, you already made the first step on your journey and transformation.
With this self-improvement guide, you will learn how to:

Stop bottling feelings inside you and release the burden

Implement healthy habits into your life that remove stress and anxiety
Overcome fear of failure and increase your self-confidence
Take back the control of your life
And much more!
If you want to live become a happier and healthier person that can easily handle everyday stress, all you need is to follow the easy guides and expert advice found in this book – it's that easy.

Your journey to happy and stress-free life awaits you - what are you waiting for?
Leave a review about Secrets to Better and Happier Life With Mental Hygiene: Self-Development Guide to Learn Self-Control and Maintain Mental Stability. Login Now