To All the Earls I've Loved Before
Free

$2.99

(Please be sure to check book prices before buying as prices are subject to change)

---
A marriage of convenience.
A single mother who must protect her son at all costs.
A duke who must face his greatest enemy.

Fans of Grace Burrowes, Bree Wolf, K.J. Jackson, and Bridgerton are sure to enjoy this new steamy historical romance series about a family of four sisters who must face pride, peril, and adventure before each finds a love that conquers all.


A lady with a secret


Standing at danger's threshold, Lady Gwendolen Gibson (née Gardner) has no idea that love is about to beckon her in. Hiding from a man who seeks to destroy her life and steal her child, the countess has lived for years with a secret past. Now widowed and threatened with the loss of her home, a guardian angel rescues her and makes her an offer she can't refuse.

Out of options, Gwendolen wants nothing more than the chance to build a new life for herself and her son. But Gwendolen's secrets will not stay hidden and as her dangerous adversary steps into the light, he threatens her present, her future, and all she holds dear.

A scoundrel with honor

Angel Beaumont, the Duke of Englefield, lives up to his name. A golden Adonis, his looks leave women swooning in his wake while his fortune is greater than Croesus'. Returning to England after witnessing the horrors of battle, Angel seeks to alleviate the dullness of his privileged life with the usual womanizing, drinking, racing, and gambling.

Until the night he steps across Blackwater Bridge and discovers a mysterious woman in desperate circumstances. Deciding only he can keep her safe, Angel makes a gallant proposition, offering himself as her protector in a marriage of convenience.

But although Angel believes he can remain aloof to Gwendolen's charms, this wild-living nobleman finds he cannot steel his heart to a woman who is more than she seems and everything he never knew he needed.


Book Details

The Gardner Girls series is composed of standalone stories which may be read in any order. Each book in the series is a rollicking adventure featuring a spunky heroine, a romantic hero, a swoon-worthy happy-ending, and at least one villain you'll love to hate!

Heat Level: A Steamy Slow Burn (3/5)



"A tender and beautiful slow blooming love story… Incredibly written!" – Catherine, Amazon Reviewer

"Fenna Edgewood is a worthy addition to the ranks of Regency Romance. Can't wait for the next in the series!" – Lesley H., Amazon Reviewer

"The characters are charming and irresistible and the dialogue and imagery bring the story to life beautifully. I enjoyed this fantastic story immensely!" – Daisy, Amazon Reviewer

Read More...
---
Paperback Books
---
---
More Books from Fenna Edgewood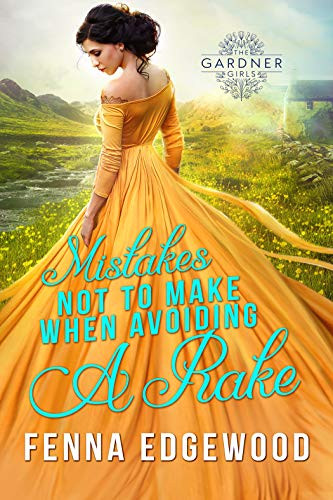 General Romance, Historical Romance

© 2022 CraveBooks. All rights reserved