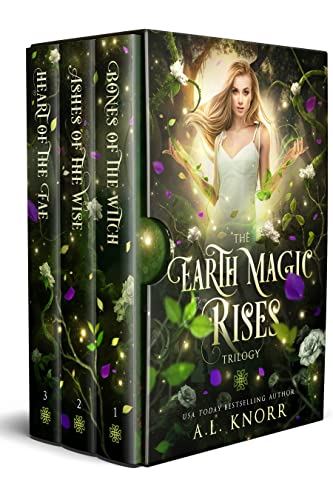 Earth Magic Rises, The Complete Trilogy: Bones of the Witch, Ashes of the Wise, Heart of the Fae
By A.L. Knorr
$8.99
(Please be sure to check book prices before buying as prices are subject to change)
High in the hills of Scotland, an ancient evil has returned. One young woman struggling to master her magic is the only hope to stop it.
First it is drums only she can hear, then a shadow only she can see. But the discovery of a mummified body entombed in an ancient wall, and a young woman's disappearance, create a mystery Georjie is uniquely equipped to answer.
Teaming up with a handsome amateur historian, she uses her earth-elemental gift to overturn secrets hidden deep in the soil. But never far from the trail of clues lurks a dark creature on the hunt for prey. As each clue is revealed she learns more about her heritage and her own family history, revealing an uncomfortable link between herself and the wickedly alluring entity.
Can Georjie unravel the mystery to save innocent lives…and her own?
Digital Books

ASIN:
B09RMKT4PV
ISBN:
1989338283
Book Length: Epic Novel – 650+ Pages
More Books in this series from A.L. Knorr
Leave a review about Earth Magic Rises, The Complete Trilogy: Bones of the Witch, Ashes of the Wise, Heart of the Fae. Login Now