Cut, Crop & Die: Book #2 in the Kiki Lowenstein Mystery Series
Cut, Crop & Die: Book #2 in the Kiki Lowenstein Mystery Series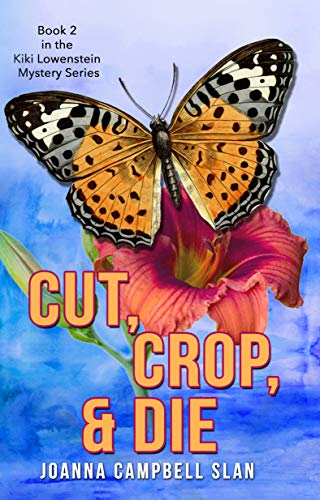 Cut, Crop & Die: Book #2 in the Kiki Lowenstein Mystery Series
By Joanna Campbell Slan
Free

$3.99

(Please be sure to check book prices before buying as prices are subject to change)

---
THE DEATH OF A RIVAL CRAFTER IS NOTHING TO SNEEZE ABOUT...KIKI'S LEFT CRYING THE BLUES

In front of a meeting room full of customers and merchants, Kiki watches helplessly as a rival crafter takes one bite of a scone and goes into anaphylactic shock. Suddenly all eyes turn to Kiki Lowenstein, who was Dead Woman's archenemy.

Just that fast, Kiki's moment of triumph turns into a disaster.
Just when Kiki was settling into her new job, her first real career, she's become the poster child for dead customers. But Kiki's life isn't all doom and gloom. On the bright side, her mother-in-law has invited her to a gala event. A spa day is in order…and that doesn't go as planned either.

In fact, Kiki's heart is about to smashed into a zillion tiny pieces. That dead woman was the least of poor Kiki's problems.

FREE GIFT-- Download your copy of Bad, Memory, Album. Go here for details: https://bit.ly/BadMAlbum

Read More...
---
---

© 2022 CraveBooks. All rights reserved