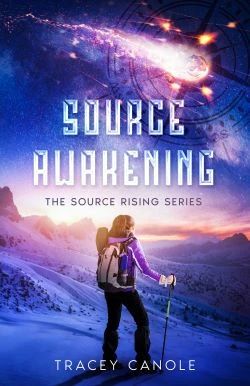 Source Awakening
$2.99
(Please be sure to check book prices before buying as prices are subject to change)
It's funny how being trapped in an avalanche can make you rethink your past mistakes. They said the world was safe. I guess they were wrong.

Reena Novak was just a normal girl until the rogue planet Goliath entered the atmosphere, ending the world as she knew it. Now, the mysterious ash trailing after Goliath has absorbed into her skin, and she's seeing things she can't explain — images of an ethereal swirling liquid and ever-changing landscapes. They haunt her, just like the powers developing within her.

Tension is high as she and her ex-best friend, Jaxson, must work together to reach their families. But it isn't until he saves her life with new abilities that she realizes she's not the only one changed by the ash. What are these powers and why do they only appear in some?

After meeting Remy, a stranger with powers both like and unlike hers, Reena is determined to find the common link. But the only clue she has are the dreams and the pull she feels in her chest to some unknown force called The Source and the power it wields. It calls to them all, but why?

Is this another test, a punishment for the way she's treated Jaxon, or something else? Reena must restore her relationship with Jaxson, protect those she loves, and stop anyone who might use the power of The Source for personal gain. Or what's left of this world will disappear forever.

Complete Source Rising Series:
Book 1: Source Awakening
Book 2: Source Ignited
Book 3: Source Evolution
SOURCE AWAKENING is a post-apocalyptic science fiction novel. This coming-of-age story will take readers on an adventure filled with romance, strong familial ties, and unexpected abilities.
Digital Books





ASIN:
B09NMP2KBC
ISBN:
978-1088020128
Book Length: Long Novel – 320-650 Pages
Leave a review about Source Awakening. Login Now