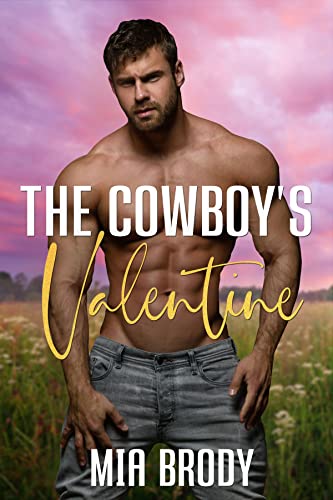 The Cowboy's Valentine (Courage County Brides)
By Mia Brody
$2.99
(Please be sure to check book prices before buying as prices are subject to change)
I'm a grumpy loner cowboy and I like it that way. Until my beautiful mail order bride arrives and suddenly, I want more than a marriage in name only.

Ethan

I'm not exactly Mr. Hearts and Flowers. I mean, I was at one point in my life. Back before I discovered my wife was cheating on me in front of the whole town. Oh, and the baby she was carrying wasn't even mine.

So, to say that my late grandfather insisting that marriage is a requirement for claiming my rightful inheritance doesn't exactly have me jumping for joy. But it's too late because my mail order bride is already on her way.

I have every intention of making this marriage in name only. Should be simple and easy enough…until I lay eyes on Valentine. She's the prettiest thing I've ever seen and I'm instantly in love. But are the scars from my past too much for a ray of sunshine like her?

Valentine

Yep, I was born on Valentine's Day and yeah, it is a dorky name. But that doesn't mean that I can't believe in family and love and forever. Sure, I was a foster kid who never knew those things.

But I want to. That's why I signed up to be a mail order bride.

Looking at Ethan, I know that we can make this work if he'll just give me a chance. He seems determined to close himself off, but maybe for the first time, I can convince someone I'm worth keeping.

Will this lonely cowboy finally let me inside? Or are we doomed to keep this as a marriage in name only?

The Scott Brothers are fierce cowboys in need of mail order brides so they can claim their rightful inheritance. But that's not the only thing these rough and dirty cowboys plan to claim! Each book in the Courage County Brides series is standalone with NO cheating and NO cliffhangers. Just a sweet, sexy HEA so you can get your swoon on.

Digital Books





Eden Books
Book Length: Novella – 60-150 Pages
More Books in this series from Mia Brody
Leave a review about The Cowboy's Valentine (Courage County Brides). Login Now