Dolphin Bay Cozy Mysteries Boxed Set 1 (Books 1-3): Murder Mystery Anthology with Recipes (Dolphin Bay Cozy Mystery Series Collections)
Dolphin Bay Cozy Mysteries Boxed Set 1 (Books 1-3): Murder Mystery Anthology with Recipes (Dolphin Bay Cozy Mystery Series Collections)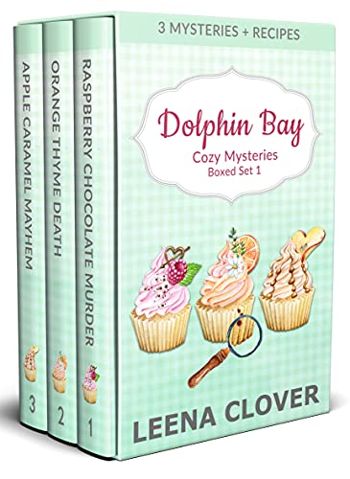 Dolphin Bay Cozy Mysteries Boxed Set 1 (Books 1-3): Murder Mystery Anthology with Recipes (Dolphin Bay Cozy Mystery Series Collections)
By Leena Clover
Free

$3.99

(Please be sure to check book prices before buying as prices are subject to change)

---
A heartwarming cozy mystery series about family, friendship and the pursuit of a lifelong dream.
FREE WITH KINDLE UNLIMITED - THREE COZY MYSTERIES + CUPCAKE RECIPES + EXCLUSIVE BONUS CONTENT
Recently widowed Anna Butler is busy testing cupcake recipes, trying to cope with the loss of her beloved husband. When the license for her dream cafe is rejected, Anna realizes the local mayor will never stop making her life difficult. The formidable woman has already turned half the town against her, all because she has a silly notion that Anna killed her husband.
Aided by her quirky friends, the Firecrackers, and her daughter, a has-been Hollywood star, Anna will move heaven and earth to solve the mystery behind her husband's death. The debonair ex-police chief is a big help and it doesn't hurt that he has a soft spot for her.
If you like cozy mysteries featuring strong women, small beach towns, yummy food and a dash of romance, you will fall in love with the Dolphin Bay series.
RASPBERRY CHOCOLATE MURDER
College Girl Murder Shocks Beach Town
5 stars - 'Can't wait to read #2'
When a young girl is found dead in the woods, Anna's friend's son is top suspect. Every clue she finds points toward the boy until she begins to wonder if he is innocent.
ORANGE THYME DEATH
Body at Bookstore Baffles Dolphin Bay
5 stars - 'Keep you guessing read.'
When a local man is found dead at Bayside Books, Anna Butler becomes implicated in a second murder. Her past connection with the victim raises a red flag the police cannot ignore. As the murder investigation takes a bizarre turn, a certain ex-police chief provides the only bright spot in Anna's life.
APPLE CARAMEL MAYHEM
City Developer Murdered at Historic Castle
4 stars - 'This series keeps getting better'
When Anna's friend and local resort owner becomes the top suspect, she reluctantly steps in to help. Can she ignore his sordid reputation and trust he is innocent?
Buy or borrow now and start reading this clean, cozy mystery series that thousands love. Guranteed to keep you turning the pages!
BONUS CONTENT - Cupcake recipes and exclusive never-seen-before interview with Anna Butler
Read More...
---
---
Leave a review about Dolphin Bay Cozy Mysteries Boxed Set 1 (Books 1-3): Murder Mystery Anthology with Recipes (Dolphin Bay Cozy Mystery Series Collections).
Login Now

© 2022 CraveBooks. All rights reserved