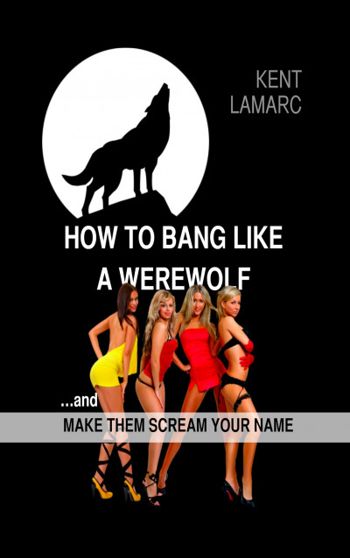 How to Bang like a Werewolf: …and make them scream your name
By Kent Lamarc
$4.99
(Please be sure to check book prices before buying as prices are subject to change)
Did you know that, according to pornstar Shawna, 99% of men are bad in bed? Or that, according to the National Health and Social Life Survey, while 75% of men always reach orgasm during sex, only 29% of women report the same? The Endurance Report says that, on average, most men last anywhere from two to six minutes in bed.
Through years examining different information on this subject and applying it to different women, always came a moment in which many of them revealed the exact same thing, saying that most men don't know how to have sex and should be taught how to. They suggested me to write this book to teach them, as every single one of them said that I was the one that knew the most. Therefore, this manual resumes shared information, from words to words and sheets to sheets, as well as skills certified by many women as being the best. And it's also scientifically proven, in the biggest screams of orgasm that I've ever listened, followed by extremely sweating bodies and hands, leaving no space for any doubt regarding the evidences or the possibility of pretending them.
This book also provides a clear guidance regarding finding horny women, seduce them into bed and fxxx them properly, and all this in the good pornstar style. But is it possible? Yes, it is. As the sex industry grows by the millions, and the number of women and men that want to be inside movies increases as well, it is clear that everyone has hidden ideas about sexual ambitions and curiosities that, somehow, wish to satisfy. So, it's with the intent of uniting such people into a fulfilling and fun moment with plenty of entertainment that this book was created.
There are many books in the market, promoting pathetic wonders, such as lasting in bed for merely 20 minutes, or promoting modern but uncomfortable sex positions, but they are all very far from the value that this book offers, as it is made by a person whose experience clearly goes beyond that, reason why I was always asked by women if I am or have been a pornstar. With me, you'll learn how to last more than one hour and even two hours, what to eat, drink and do to get there how to fxxx for maximum pleasure, for your partner and yourself, how to have more fun in sex, how to have sex with multiple partners at the same time, and even how to keep lasting relationships with the best sex ever.

Digital Books


22 Lions
Book Length: Short Story – 0-60 Pages
More Books in this series from Kent Lamarc
Leave a review about How to Bang like a Werewolf: …and make them scream your name. Login Now