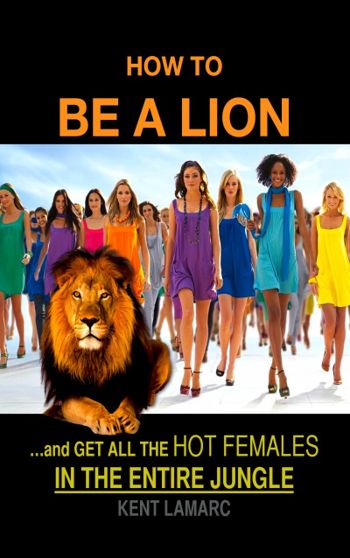 How to be a Lion: …and get all the hot females in the entire jungle
By Kent Lamarc
$4.99
(Please be sure to check book prices before buying as prices are subject to change)
The knowledge presented in this book has been requested several times but only now shown due to the implications that it may have.
The techniques described here were developed through years of study on the basic instincts of the human mind and shouldn't be used by anyone that isn't mature enough to deal with the consequences that they may bring to his life.
They also shouldn't be used indiscriminately in any given situation, because they serve the purpose of helping the reader become more true to himself and not necessarily guide anyone in the same path.
The amount of success that can be obtained by following them, comes foremost from the responsibility, wisdom and experience in applying this knowledge while avoiding the temptation of manipulating anyone with it.
This said, this book is also meant for the vast majority of the men that, as I've seen many times, ignore many of the principles here described and lose women that they like, while contributing to a very negative reputation attributed to their gender.
Few men are ready to accept that women don't require this knowledge as much as they do. But there are many reasons explaining the wisdom and effective instincts that women have in the field of seduction.
They're mostly related to the fact that, until the age in which men were usually worried about competition and rivalry among their peers, women were focused in understanding themselves and the opposite gender, often through movies and novels.
There's a basic assumption in the field of psychology that women have a predominant interest for communication, and that's why they tend to dominate this game far better than men. Eventually, also to their own disadvantage, which is why many women stay in abusive relationships.
Most men are frequently judged as unsuitable for a relationship, due to their poor set of communicative skills, while a very small minority can choose how many women they want and for how long they want to keep them.
Unfortunately, this leaves many others, with great potential to become good boyfriends and husbands, depending on luck and casualty in order to meet their dream woman. But this book intends to change such situation, by providing them with the insights that can change their life in a positive direction, while leaving them with much more control and responsibility over the outcome.
The 40 chapters that this book covers, include the most important topics that define the alpha male and characterize his powerful influence.

Digital Books


22 Lions
Book Length: Novella – 60-150 Pages
More Books in this series from Kent Lamarc
Leave a review about How to be a Lion: …and get all the hot females in the entire jungle. Login Now