Love, Accidentally: A Complete Second Chance Contemporary Romance Collection
Love, Accidentally: A Complete Second Chance Contemporary Romance Collection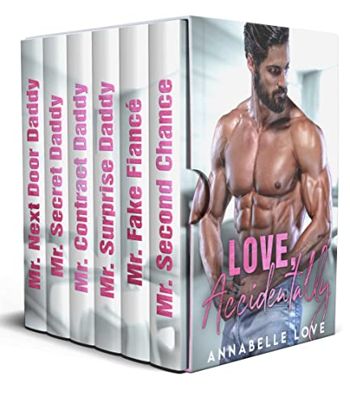 Love, Accidentally: A Complete Second Chance Contemporary Romance Collection
$2.99

(Please be sure to check book prices before buying as prices are subject to change)

---
Strong. Hard. Irresistible.

Meet the protective men of Thorn Ridge in this six book, complete steamy romance collection, featuring second chances, fake fiancés, surprise pregnancies and secret babies.

All six books of the Love, Accidentally series are included:

Mr. Second Chance
Ever slept with your ex and not realize it was him? No, only me?
I'd just got the work breakthrough I needed.
Write an article on a playboy football star.
Then I found out Mr. Touchdown is also my Ex.
And he was my toe-curling, masked indulgence at last night's masquerade party.
Last night's leg-shaking O is now today's uh OH!
FML.

Mr. Fake Fiancé
I walked in on my boss breaking up with his girlfriend.
Now he wants ME to be his Fake Fiancée.
An engagement should be easy.
Fake it till you make it, right?
If only he didn't push all my buttons.
If only I didn't like it.
If only he wasn't also my Ex.

Mr. Surprise Daddy
One night of fun.
Two pink lines.
And only one explanation…I'm pregnant with the best man's baby.
I've been rehearsing what to say…
Hey Football Super-Star, you're gonna be a daddy,
But we can't talk about this until next week.
I thought seeing those two pink lines was the scariest thing ever…
Until I realized that I could be falling for my baby's daddy.

Mr. Contract Daddy
My best friend just proposed to me…
"I'll be your contract daddy."
All because I need to get pregnant ASAP…
Or I might never get to have children.
Crossing this friendship line never felt so right.
If only he didn't have to leave town.
Cause while this contract may cover how to make a baby…
There's no clause that covers falling in love.

Mr. Secret Daddy
Lucy's been keeping a secret.
One with her smile and my eyes.
A secret bundle of joy that's not just hers, but ours.
And when I hold my daughter for the first time, I realize she's a secret I can't ignore.
Whatever it takes, I'll get Lucy back.
I'll be the man she wants…
And the father our baby deserves.

Mr. Next Door Daddy
There's only one way to save my niece…
Fake an engagement with my next door neighbor.
Social Services say I'm now my niece's guardian...
As long as I prove my bachelor pad is a stable home environment.
Fake an engagement.
Adopt a baby.
And don't fall for my fake fiancé.
How hard can it be?

Fall head-over-heels for this amazing collection today! No cheating, no cliffhangers, and the HEAs will have you smiling all night long!

Read More...
---
---
Leave a review about Love, Accidentally: A Complete Second Chance Contemporary Romance Collection.
Login Now

© 2022 CraveBooks. All rights reserved