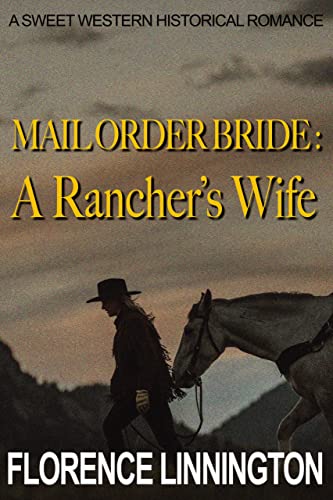 Mail Order Bride: A Rancher's Wife: A Sweet Western Historical Romance
$2.99
(Please be sure to check book prices before buying as prices are subject to change)
Burned and disfigured as a child, Millie Becker has always struggled to belong. At twenty-eight, her parents still treat her like a troublesome child. Taking a chance, she becomes a mail order bride, hoping to find love in the untamed Old West.

Rancher Otto Morris is not expecting that Millie could not ride a horse. And she has a limp.

Millie, on the other hand, is not expecting to live in such close proximity to Otto's ranch hands. She also thinks that the "hard work" advertised in the mail order bride catalog are just going to be cooking and cleaning. But Millie now has to learn to ride horses, fix fences, grow food and defend cattle from predators and thieves.

Millie is determined to prove that she has what it takes to be a rancher's wife.

Otto tries to adapt things around the ranch to suit Millie's needs and subconsciously becomes overprotective of Millie, slipping into a thinking that she is too weak to deal with the ranch's backbreaking work.

Can Millie convince herself and Otto that she is suited for frontier life? And how can Otto learn to let go and yet embrace what he truly loves?
More Books in this series from Florence Linnington
Leave a review about Mail Order Bride: A Rancher's Wife: A Sweet Western Historical Romance. Login Now