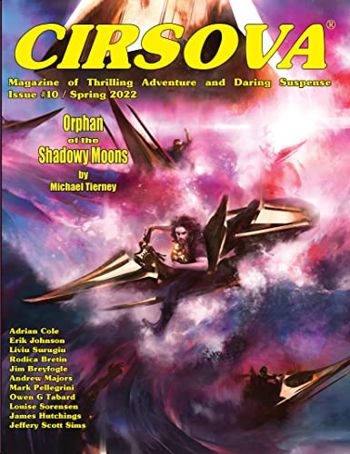 Cirsova Magazine of Thrilling Adventure and Daring Suspense Issue #10 / Spring 2022
By P Alexander
$3.99
(Please be sure to check book prices before buying as prices are subject to change)
Orphan of the Shadowy Moons (Part 1)
By MICHAEL TIERNEY
At long last, the origins of the Ancient Warrior are revealed! Fleeing from the Artomique fleet, Daestar, Bully Bravo, and the Ancient Warrior find a refuge of the immortal race—it is there that the psychic locks on his past are finally released!
The Flying Mongoose
By JIM BREYFOGLE
Dragons have cut off the smiths of Pytheas, but Kat and Mangos have a plan! Un-fortunately, it will require the duo taking to the skies themselves!
Channel 121, After Midnight
By MARK PELLEGRINI
Bored on a Saturday night, Caleb discovers a new channel that has never appeared on the cable box before, offering strange programming and an ominous warning!
The Recorporator Finds a Live One!
By ANDREW MAJORS
A lone Recorporator has just blown a ton of money on rights to a world that he thinks may be a dud… until strange things begin to happen to his scanner drones!
Serpent God of Mars
By ADRIAN COLE
Though defeated by the trainee witchfinder, Arrul Voruum, the sorcerer Rannas Kavannian has survived in a broken stolen body and hides in the depths of Mars!
The City of the Crocodile God
By OWEN G. TABARD
Strange things are afoot in the city sacred to the Crocodile God—her son dead, the high priestess is in a malaise… and a sacred crocodile attacks during the festival!
Darla of Deodanth: Firewood
By LOUISE SORENSEN
After the incident at Machu Hampacchu, all that was left for Darla to do was to re-stock firewood for the excavation site—but no task is simple on the Eldritch Earth!
An Ayre By Landor
By JEFFERY SCOTT SIMS
A magic potion has rendered the Duke of Vardix invulnerable! Can Morca stop the Duke's scheme to assassinate Lady Niada before all at the Festival of Azamodius?!
Just Another Crappy Story That Kills Everybody In It
By Jim Breyfogle
The Fictionverse is where stories are acted out when pen hits paper—but what happens in a bad or poorly written story? Bob the Guardsman is about to find out!
Dreaming of Mart Senson
By LIVIU SURUGIU [Translated by J.S. Bangs]
Something strange is happening to Mart Senson! The faces of individuals he has dreamed of, and who have dreamed of him, are appearing in portrait on his skin!
Touch of Night
By ERIK JOHNSON
Edward Argot, PI, is approached with a strange job: go deep undercover to inform on a mysterious prisoner… The catch? Said prisoner is reputed to be immortal!
The Sound of Silence
By RODICA BRETIN
An orphan is assaulted by the monstrous Professor Wilberforce—killing her as-sailant lands her in an institution, where trauma manifests in her strange powers!
My Name is John Carter (Part 11)
By JAMES HUTCHINGS
Digital Books

Lulu Hardcover
Book Length: Long Novel – 320-650 Pages
More Books in this series from P Alexander
Leave a review about Cirsova Magazine of Thrilling Adventure and Daring Suspense Issue #10 / Spring 2022. Login Now