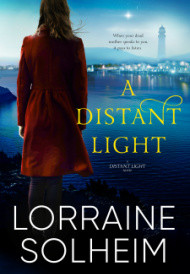 A Distant Light
$4.99
(Please be sure to check book prices before buying as prices are subject to change)
When your dead mother speaks to you, it pays to listen.
Late one night after an otherwise typical day at the office, Catherine O'Malley, a Boston advertising executive, is attacked on her way home. While enroute to the hospital, she has an out-of-body experience and hears her late mother say, "Not your time. Our choices define us. Fix what's wrong. More to do."
When she returns to work and finds a junior associate occupying her office, Catherine turns her mother's advice into action. She ditches the career that drove her to become the poster child for live to work instead of the other way around and moves to the island of Nantucket—a place she fell in love with when Jack, her former boyfriend, flew them there on numerous occasions.
Will Catherine's decision to uproot her life, move to the tiny island, and start over create the peace and happiness she's seeking? Will she reunite with her former love, whose family still resides on the island? Or will it prove to be yet another choice she'll come to regret?

Digital Books

ASIN:
B09PZGRVNN
ISBN:
979-8985245318
Book Length: Novel – 150-320 Pages
Leave a review about A Distant Light. Login Now