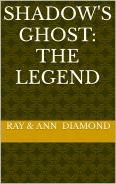 Shadow's Ghost: The legend
$29.99

(Please be sure to check book prices before buying as prices are subject to change)

---
The legend begins with a black polydactyl cat, who becomes human with the power from Diyu — the realm of the dead.
He is raised by Roy Danza Hemingway, an ex-musician with martial arts skills who runs a private investigation firm with his lovely Guyanese wife Lee Ann, who battles daily the challenges of multiple sclerosis.

Shadow's Ghost, the Legend, is the first of the series.

This novel is the color printed version of Shadow's Ghost: The legend of Tex Element. This story is about a super-hero character who can fly, disappear and morph into any character he chooses. The novel has action, suspense, comedy, drama, and even love for those who are romantic at heart. But let's not forget that this novel has a serial killer, a hit-man, a war, evil spirits, royalty and mermaids and that's only part of it! Each of these individual characters can have a story that can be developed on its own. There is a lot in this novel to intrigue the imagination. Imagine a warrior with the five elements, created in the depths of Diyu - The realm of the dead.
He once was known as Shadow the Cat and now he has become a Prince.
A Prince of the Aquatic Caribbean Kingdom who has been given the Flaming Sword to
act justly, defend the helpless, fight evil, protect widows and orphans, and avenge what is unjust.
Prince Element will fight not only injustice from the living, but also the undead. Those of this world
and those from another world. He has ghost-type powers as well as the power to control natural elements.
Shadow's Ghost: The Legend has now begun!
Read More...
---
Paperback Books
---
ASIN: B09F1G1HM9
ISBN: 979-8468483688
---

© 2022 CraveBooks. All rights reserved