The Grant Cardone Rebuttal Manual: Learn to Handle Any Objection
The Grant Cardone Rebuttal Manual: Learn to Handle Any Objection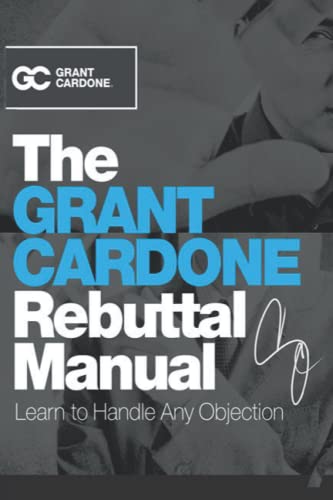 The Grant Cardone Rebuttal Manual: Learn to Handle Any Objection
$39.97

(Please be sure to check book prices before buying as prices are subject to change)

---
From a serial entrepreneur who has closed over $500M in sales he owns & operates seven eight-figure companies, including world's largest business & entrepreneur conference, and a $2B.B portfolio of multifamily propertiescomes a no-BS guide to getting everything you want out of your business, relationships, and life.

Learn to professionally handle any and all objections anywhere in the sales process. Whether it happens over the phone on a cold call or in the qualification, the negotiations, the close or the follow up.
Whatever It Takes conquer what's holding you back from the business you've always dreamed about.
and the life you've always wanted.

Includes:
Over 100 Closes

205 Pages of High-Quality, Perfect Bound Real Life Responses

Amazing rebuttals and responses to everyday objections
You will master Grant Cardone's codification of how to close any sale by handling complaints and objections.

Drill on Grant Cardone's "Listen, acknowledge, isolate, validate, probe, tie down, justify and close" steps until you Perfect and Master the Objection.
Some of the objections The Grant Cardone Rebuttal Manual covers:
You need to set an appointment.
I don't know you.
We are not buying anything today.
We need to shop around.
It's too much money.
We don't want to put any money down.
Not doing anything till next year.

Some of the closes The Grant Cardone Rebuttal Manual teaches:
The Handshake Close
The Congratulations Close
Selection Alternative Close
Payment Breakdown Close
The Justifier Close
Price Guarantee Close
Pages Content
Objections in Prospecting (Door or Phone)

Objections In Greetings

Objections in Qualifying

Objections In Presentation

Objections to Proposal

Objections to Close

Objections in Follow-up

Basic Closes

Affordability Objections

Difference Objections Closes

Down Payment Closes

Money Closes

Payment Closes

Product Closes

Stall Closes

Time Closes

Too Much Money Closes

Demonstration Objections

General Objections

Greeting Objections

Write-Up Objections

Cold Call Objections

Its Closer's Survival Guide which goes Over 100 Ways to Ink the Deal
Read More...
---
Paperback Books
---
---

© 2023 CraveBooks. All rights reserved