It's My Party: A Royal Romantic Comedy (Seven Brides for Seven Mothers Book 3)
It's My Party: A Royal Romantic Comedy (Seven Brides for Seven Mothers Book 3)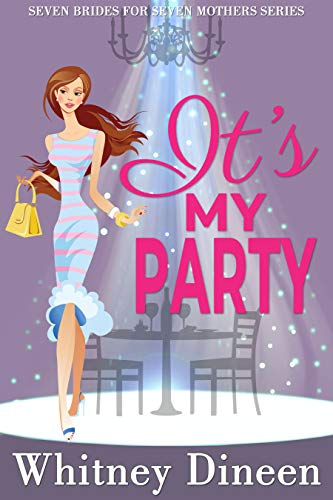 It's My Party: A Royal Romantic Comedy (Seven Brides for Seven Mothers Book 3)
By Whitney Dineen
Free

$3.99

(Please be sure to check book prices before buying as prices are subject to change)

---
"... a superb story with brilliant dialogue, and a great interplay between all the different personalities therein. Highly recommended for those seeking high-quality chick lit with wit, sass, and plot aplenty." --Readers Favorite, ★★★★★

High off her success of playing matchmaker for both of her sons, lodge owner Ruby Cavanaugh decides to try her hand pairing other eligible singles—starting with her executive chef and her new event coordinator.

Party planner Claire Choate has a cheating boyfriend who also happens to be her boss. After visiting Oregon for her brother's wedding—which didn't even happen—Claire is offered a job that gets her out of LA for good. How can she pass up an opportunity like that?

Executive chef Geoffrey Bere can't get involved with anyone. It's almost time for him to leave Oregon and return to his native country of Malquar. Per his agreement with his parents, the king and queen, he must return to public life and quit pretending to be someone else.

Will love win out or will Geoffrey have no choice but to return home?

Find out in this deliciously fun third installment of Seven Brides for Seven Mothers!

Read More...
---
---
Leave a review about It's My Party: A Royal Romantic Comedy (Seven Brides for Seven Mothers Book 3).
Login Now

© 2022 CraveBooks. All rights reserved