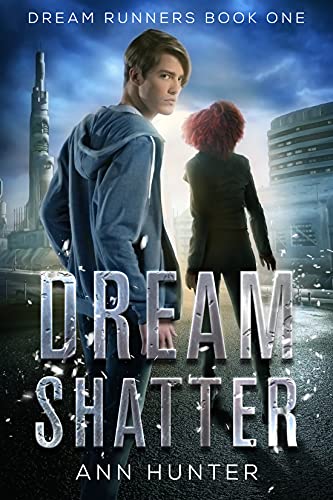 Dream Shatter (Dream Runners Book 1)
By Ann Hunter
$2.99
(Please be sure to check book prices before buying as prices are subject to change)
2022 Readers Choice Gold Medal
2022 Bookfest YA Dystopian Gold Medal 
2022 Bookfest Best Book Series Silver Medal
2022 Bookfest YA Social Themes Bronze Medal
***
The Circle is robbing the dreams of its citizens.

In Logan Kent's world, disease, hunger, and war have all been resolved by the dreams of its citizens thanks to nanobots developed and implanted into everyone as newborns.
At least, that's how it seems...

Now The Circle wants Logan to join their fold and continue the utopia they've created. He has no reason to distrust his parents—high ranking members in The Circle—until he meets Reina, a girl from the exiled faction "Anyone," who refuse to give up their free will.

Logan begins to question everything he knows and loves. Can the girl be trusted—especially when she's a medicine thief skulking around Capitol City—or is it really true that peace can only be maintained beneath The Circle's rule?

Fans of The Matrix, Inception, and The Giver have been dreaming of this series for a long time coming.

Scroll up and one-click DREAM SHATTER, the first novel in Ann Hunter's dystopian series DREAM RUNNERS, to jump into Logan's world today.
Digital Books

Book Length: Novel – 150-320 Pages
More Books in this series from Ann Hunter
Leave a review about Dream Shatter (Dream Runners Book 1). Login Now