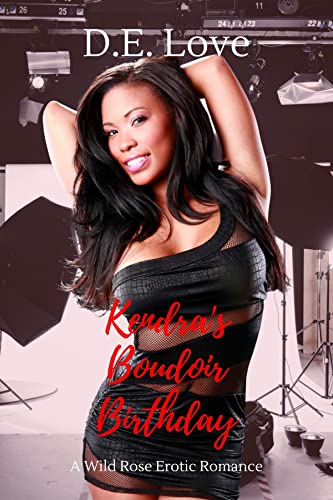 Kendra's Boudoir Birthday (Wild Rose - Small Town Erotic Romance)
By D. E. Love
$0.99
(Please be sure to check book prices before buying as prices are subject to change)
Kendra didn't know why she was going to keep…
… her boudoir photography appointment at Dillon's.
Xavier had broken up with her on Friday. It was Monday, which was always the worst day of the week for her anyway. She dealt with assholes at work all day long. She was tired. Plus it was her birthday.
Most of all she didn't feel sexy at all. She felt like a hot mess and she was sure that wouldn't translate to sexy photos. Who wanted to see photos of her bloodshot eyes? No one. Especially Xavier.
She scheduled this shoot to make a sexy calendar for Xavier and give it to him for Christmas. Now there was no way he would see any of these pictures. She wouldn't want him to. There was a 100% chance they would look hideous.
With a deep sigh she exited her vehicle and approached the studio. Once she went through that door, there would be no turning back. Maybe he would refund her sitting fee and she could cancel and go home.
She had never met Dillon. She had scheduled her appointment online and communicated via email. He was probably some lecherous old man getting off on shooting half-naked pictures of women.
This was going to be a disaster.
She just knew it.
Then she met Dillon.
Digital Books

Book Length: Short Story – 0-60 Pages
Leave a review about Kendra's Boudoir Birthday (Wild Rose - Small Town Erotic Romance). Login Now