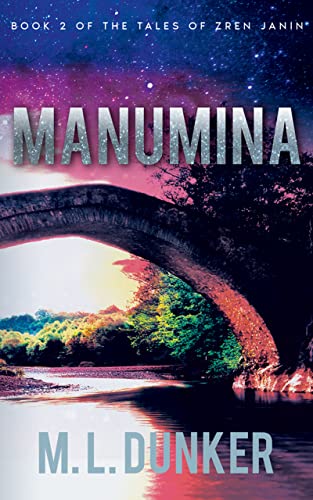 Manumina: Book 2 of The Tales of Zren Janin
By M.L. Dunker
$0.99
(Please be sure to check book prices before buying as prices are subject to change)
Red has spent his life trying to avoid a dance with Trouble.

When Red was rescued by the great Softfoot Ngahuru and Koanga the Storyteller, he learned life was more than just survival on the streets of Lowertown. As they traveled through Kerek and Matasi, the West Islanders gave him a new name—Zren Janin—and told him of a homeland he had never known: Conrosa.

Ngahuru also introduced him to Miyamoto Suki, a diplomat of Vikland trying to reach his own country. When Miya asks him to travel with him and protect him over the bandit infested Northern Track, Zren agrees, in exchange for an education at the famed Vikland Academies and future travel to Conrosa to find his family. It's a wealthy reward—if he stays alive long enough to claim it.

Joining them are three Viklander women: Kern, a Softfoot, Rell, a healer and bowmaster, and Song Yao, a renowned bongmaster. All of them will be guarding an injured firemaster, and two wagons of what Zren suspects are illegal weapons, although everyone pretends they are merely farm implements.

As if the journey isn't complicated enough, the King of Kerek is sending along the paychest for the garrison at Earles with only four questionable Kereki soldiers to guard it.

Violence erupts daily along the track, leaving Zren and the survivors badly wounded and wondering just who they can trust.

Manumina is the second book in The Tales of Zren Janin series. A story of adventure and the road to understanding who we are, finding a family and creating a home in an alternate world with multiple cultures, languages, political intrigue, and mythology.

Digital Books

Book Length: Long Novel – 320-650 Pages
More Books in this series from M.L. Dunker
Leave a review about Manumina: Book 2 of The Tales of Zren Janin. Login Now