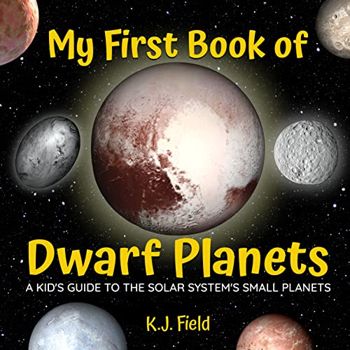 My First Book of Dwarf Planets: A Kid's Guide to the Solar System's Small Planets
By K.J. Field
Free

$4.99

(Please be sure to check book prices before buying as prices are subject to change)

---
Know a little outer space fan who loves Pluto and the dwarf planets? Ever wished kids' space books spent more than a measly page or two on the little guys that populate our solar system? My First Book of Dwarf Planets has you covered with a fun, easy-to-follow focus on our solar system's amazing small planets, made especially for kids ages 6-8!

Get even the youngest space fan excited about our solar system's smallest planets, from the lone dwarf planet in the inner solar system to the diverse mini worlds of the Kuiper belt and beyond! This book uses incredible space photos and easy-to-understand entries packed with fun facts to help kids explore the fascinating lineup of dwarf planets: rocky Ceres; Pluto, the planet with a heart; red Makemake; weird-and-wonderful Haumea; and icy, far-flung Eris.

This dwarf-planets-for-kids book includes:
Big, beautiful images

― Inspiring, high-quality photos from space missions, and realistic illustrations grounded in science, transport you to each dwarf planet - no spacecraft required!

Astronomy for kids

― Learn all about the five dwarf planets in our solar system, plus the other "unofficial" dwarf planets. Easy-to-follow information is presented simply but with plenty of details.

Fun space facts

― Did you know that Haumea is the fastest spinning object in the solar system? Or that Pluto has an underground ocean? Epic space facts will delight young learners and challenge even dwarf-planet aficionados!

Show kids the amazing universe of dwarf planets with this fun and engaging astronomy book. Move over big planets….it's time for the little guys to finally get some attention!

Read More...
---
---
Leave a review about My First Book of Dwarf Planets: A Kid's Guide to the Solar System's Small Planets.
Login Now

© 2022 CraveBooks. All rights reserved