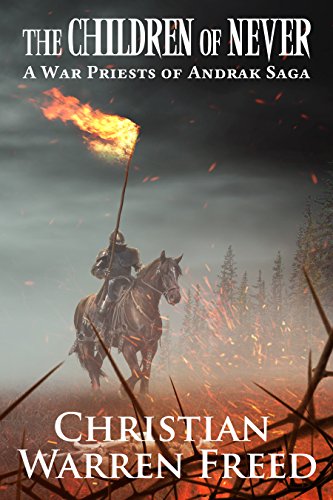 The Children of Never: A War Priests of Andrak Saga (The War Priests of Andrak Saga Book 1)
$4.99
(Please be sure to check book prices before buying as prices are subject to change)
The Children of Never is the first full novel following the L Ron Hubbard Writer's of the Future Contest winner, The Purifying Flame.
The War Priests have protected the world from the encroaching darkness of the Omegri for generations. Stewards of the Purifying Flame, they stand the watch for 100 days each year. But their strength wanes and evil spread.
In the land of Fent, the Grey Wanderer is seen. His passing heralds the return of the dead and a rash of missing children. Outmatched, the Baron summons aid. 
Brother Quinlan and his squire are deployed to Fent in the hopes of discovering the truth. What they find goes much deeper than either expect. The War Priest is soon hard pressed to stop an ancient enemy from breaching the veil and claiming this world for their own. 
Digital Books

Book Length: Long Novel – 320-650 Pages
Leave a review about The Children of Never: A War Priests of Andrak Saga (The War Priests of Andrak Saga Book 1). Login Now