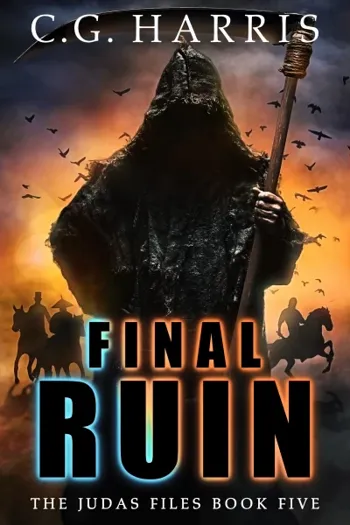 Final Ruin
By C.G. Harris
$4.99
(Please be sure to check book prices before buying as prices are subject to change)
Ancient Relics, Forbidden Mantels and Death … A perfect day to call in sick at The Judas Agency
Alex has her hands full with a Freshborn Gabe. His memories are gone and his squeamish demeanor has her wanting to shove him back into the Sulfur Pools.
Gabe questions whether or not he is better off without his memories when a secret about Alex is uncovered putting their partnership at risk.
If that wasn't complicated enough. Gabe must make a choice. Go against the direct orders of Judas and risk losing himself to powers so dark Heaven and Hell combined cannot stand against them, or listen to Judas and refuse to interfere in the evil destruction raging across the Earth. Either way it's a no-win, no-win situation.
If you like snarky characters and dark humor, then you'll love Final Ruin, the fifth and final book in the action-packed Judas Files urban fantasy series. Series now complete!
Digital Books






ASIN:
B09R64WYQT
ISBN:
978-1737390527
Book Length: Novel – 150-320 Pages
More Books in this series from C.G. Harris