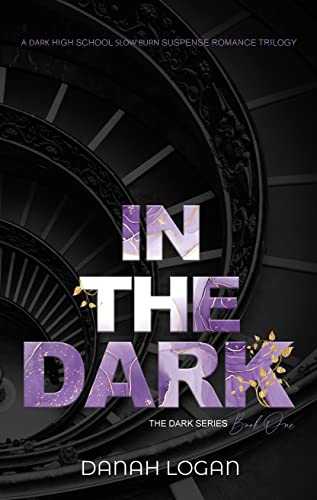 In the Dark: A Dark High School Slow Burn Romantic Suspense Trilogy (The Dark Series Book 1)
By Danah Logan
Free

$3.99

(Please be sure to check book prices before buying as prices are subject to change)

---
They used to be best friends. Not anymore. Her family kept a secret, and so did he. What no one suspected: She was the secret.

My name is Lilly McGuire.
It's been over two years, and I still have no clue why he stopped talking to me. He. My best friend.

Everything was great. Then, he left for football camp. When he came back, he pretended I didn't exist, leaving a room every time I'd enter. Eventually, he stopped coming home altogether.

I moved on. Or so I thought.

Then, a journalism assignment makes me stumble across a ten-year-old case of missing girls. With every new article I find, I get pulled deeper into a world that makes me question everything I had believed to be the truth.

Then, they start: the migraines.

Just when I accept that I must be losing my mind, something unexpected happens. I have to make a choice that will determine not only my entire future but also his.

My name is Rhys McGuire.
My life is based on secrets, and two years ago, I was forced to make a choice. I stayed away, but I've kept watching.

Now, fate has thrown me a bone. The decision is mine again. Stay quiet or come clean? Continue the charade, or tell her everything that's been tearing me apart since I was seven years old?

The choice is mine, but do I really have one? If she finds out, I could lose her forever. The ones she has trusted most are the ones that have betrayed her—maybe even beyond repair. I want to believe that she would forgive me, but could she move past all of the lies?


**AUTHOR'S NOTE
Trust Lilly and Rhys. Things may appear a certain way at first but most likely will not end up the way you expect. Keep reading.

In the Dark (ITD) is the first book in a trilogy within The Dark Series and ends with a CLIFFHANGER. Before beginning this series, please note that the first three books are one CONTINUOUS story, with Of Light and Dark (Book Three) being the conclusion.

While the entire series is intended for MATURE (18+) readers, please be aware that the trilogy is considered a SLOW BURN. The intensity will gradually increase throughout the story.

ITD is a dark, new adult, contemporary, suspense romance. It is labeled dark due to the themes that may be considered TRIGGERS for some. Reader discretion is advised.

Read More...
---
---
Leave a review about In the Dark: A Dark High School Slow Burn Romantic Suspense Trilogy (The Dark Series Book 1).
Login Now


© 2022 Crave Books. All rights reserved