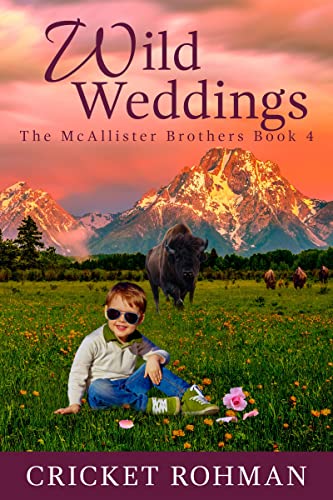 Wild Weddings: A Romantic Western Adventure (The McAllister Brothers Book 4)
$3.99
(Please be sure to check book prices before buying as prices are subject to change)
Two ranch-owning cowboys team up with two city gals. The trouble the couples encounter becomes a life-threatening mystery
.
Hannah
and Ivy win an undeveloped ranch property in Wyoming. They each fall in
love with a McAllister rancher, and there is talk of two weddings in
the not-so-distant future. Get married and develop the ranch. Simple,
right? Were these matches made in heaven? Not quite.
The
trouble begins with a woodland explosion and unimaginable vandalism,
followed by written threats against the McAllisters. The only thing that
makes sense is their strong love and devotion for each other. But then
along come bouts of jealously, odd illnesses, and even a missing foster
child.
Despite the frustrating roadblocks, Ivy and
Hannah are still determined to have their cake—marry the men they
love—and eat it too—develop a business on their new land.
Eventually,
Troy and Ivy, Trace and Hannah feel as if they are playing a real-life
game of Clue. "We've got the guns but no monkey wrench." Ah, a needed
moment of levity. Has the Lucky Seven Curse come back to haunt them?
Would the women be forced to choose between their weddings and their
ranch project . . . or give it all up?
After many
stressful challenges, the men plan an extraordinary surprise for their
women, but one more unforeseen obstacle and a magic whistle surprises
everyone.
Digital Books

Book Length: Novel – 150-320 Pages
Leave a review about Wild Weddings: A Romantic Western Adventure (The McAllister Brothers Book 4). Login Now