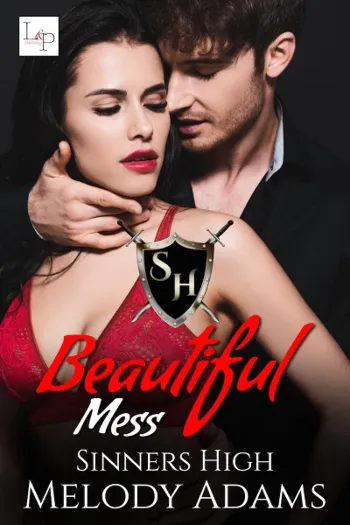 Beautuful Mess
By Melody Adams
Free
(Please be sure to check book prices before buying as prices are subject to change)
They are rich, privileged, vicious, unscrupulous and they are the undisputed rulers of Sinners High – They are the KINGS.
K for Kent
I for Ian
N for Nate
G for Gregory
S for Seth

Abby
is beautiful and she is an absolute mess. Nobody knows her story. It is
my job to break her. I'm not allowed to touch her. She's off-limits.
Bullying her not only awakens my sadistic beast. I want her as I've
never wanted any girl before. When Nate finally gives me the green light
to do whatever I want with her, anything becomes possible.
Game on, Abbygirl. I'm coming for you!

Kent
is handsome, rich, and the devil himself. Ever since I came to Sinners
High, he has made my life a living hell. As if my life isn't bad enough
already. I hate him like I've never hated a guy before. But when he
touches me, I go up in flames. I was broken before I met him, but Kent
is the one who will destroy me for good.

Trigger warning
This book is a Bully Romance and covers dark topics like rape, abuse, bulimia, borderline, suicide and bullying.
Digital Books

Book Length: Novel – 150-320 Pages
Leave a review about Beautuful Mess. Login Now