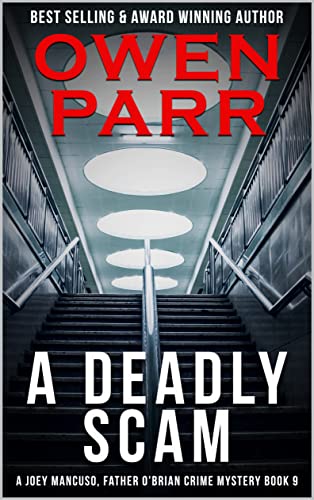 A Deadly Scam: A Joey Mancuso, Father O'Brian Crime Mystery —Book 9
By Owen Parr
$2.99
(Please be sure to check book prices before buying as prices are subject to change)
What kind of sick game is this? The killer is texting Joey Mancuso after each murder with the location.
Is it a challenge? Is he just toying with Mancuso? What kind of psychopath would do this?
Joey Mancuso, Father O'Brian, and the rest of the team are back for their ninth hard-boiled tale. Consistently working out of their Lower Manhattan Irish Pub and office. This time, there is no client. Instead, Mancuso has been sucked into this series of senseless murders by personal invitation. A text with the location and an invite to come over.
It appears like random killings of homeless people at subway stations. But there is nothing unexpected about the texts. Witnesses all seem to know there is a white male dressed in a trench coat and a hoody hiding his face. The killer strikes in the daytime, night, and early mornings, with no particular schedule. Not even the same weapon. But he's a professional. No cameras have caught his face, and no forensics were found at the scenes.

The murder rate in New York City is rising, and a series of homeless people dying, but as crazy as it sounds, this doesn't seem to be anything out of the normal.
But did the killer make a mistake inviting Mancuso to a joust?
NYPD detectives are asked to join an FBI task force, as Mancuso is sidelined and becomes an FBI person of interest. Mancuso and Father O'Brian, nicknamed the Last Advocates for the Victims by the New York City media, are not standing down. On their own, they're working the case, and no one will stop them.

More Books in this series from Owen Parr
Leave a review about A Deadly Scam: A Joey Mancuso, Father O'Brian Crime Mystery —Book 9. Login Now