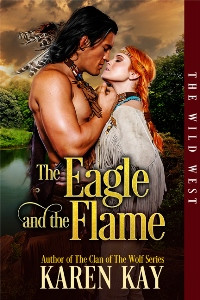 The Eagle and the Flame
By Karen Kay
$9.99
(Please be sure to check book prices before buying as prices are subject to change)
A vision foretold his tribe's doom. Is the flame-haired beauty the trickster or his true love?

Lucinda Glenforest's father, a general who'd fought in the Indian Wars, taught his flame-haired daughter to out-shoot even the best men the military could put up against her. When Luci's sister is seduced and abandoned, it's up to Luci to defend her honor in a duel. Although she wins, the humiliated captain and his powerful family vow vengeance. The sisters' only hope is to flee and hide until their father returns from his overseas mission. Out of money, Luci hatches a plan to disguise herself as a boy and use her sharpshooting skills in Buffalo Bill's Wild West Show.

The chief of the Assiniboine tribe has a terrifying vision, that someone called the deceiver, or trickster, spells doom for the children of his tribe. He enlists Charles Wind Eagle to join Buffalo Bill's Wild West Show, in hopes of appealing to the President of the United States for help, and to find and stop the deceiver. When Wind Eagle is paired with a girl whom he knows is disguised as a boy, he believes she might be the deceiver. Still, she stirs his heart in ways he must resist, for he has a secret that can never be told, nor ignored. And Luci can never forget that her father would destroy Wind Eagle if she were to fall in love with him.

Forced to work together, they can't deny their growing attraction. Will Luci and Wind Eagle find a way through the lies to find true love? Or will they be consumed by the passion of deception and slander?

Warning: A sensuous romance that might cause a girl to join the rodeo in order to find true love.
Digital Books





Book Length: Novel – 150-320 Pages
Leave a review about The Eagle and the Flame. Login Now