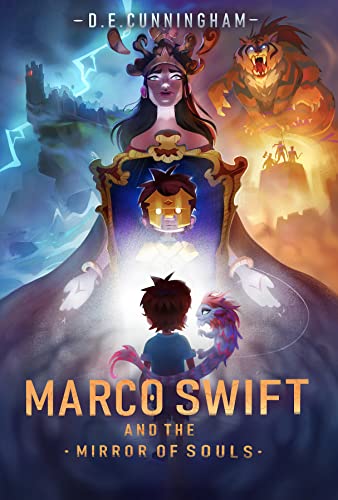 Marco Swift and the Mirror of Souls: A Middle-Grade Fantasy Adventure
$0.99

$2.99

(Please be sure to check book prices before buying as prices are subject to change)

---
Perfect for fans of fantasy books like Percy Jackson, The Chronicles of Narnia, and The Wingfeather Saga.
Marco Swift and the Mirror of Souls is a moody, thrilling and magical middle-grade fantasy adventure that grapples with universal themes of forgiveness, truth, and love.

A magical mirror, a terrible enemy, and one boy unravelling the secret behind his legacy.
Struggling with the sudden death of his father and his mother's downward spiral into mental illness, eleven-year-old Marco is haunted by dark forgotten memories and the fear that he'll lose a second parent.
But when a mysterious enchantress appears with a promise to cure his mother, Marco soon finds himself dragged into a dangerous quest to retrieve a powerful weapon hidden at the heart of the magical World of Souls. Along the way, he'll be forced to unravel his father's secretive past – and reconcile with the long-buried darkness lurking within his own psyche.
Racing against time to reconstruct the fabled sword of light and defeat the fiendish monsters that are plotting his downfall, Marco will need to use all of his wits to figure out how he can save the World of Souls and find a way to cure his mother.
Will Marco be able to overcome the challenges of this mystical land and bring peace to the World of Souls? Or will he fail and be left alone with nothing but sorrow and guilt?
Read More...
---
---
Leave a review about Marco Swift and the Mirror of Souls: A Middle-Grade Fantasy Adventure.
Login Now


© 2022 CraveBooks. All rights reserved