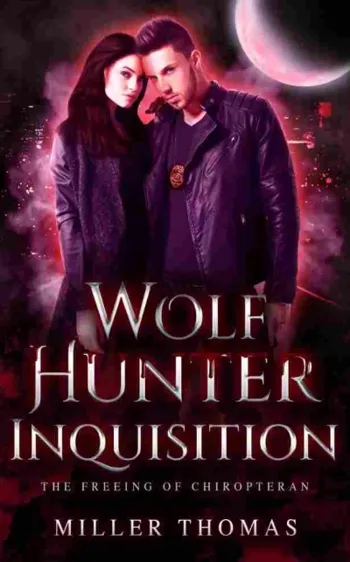 Wolf Hunter Inquisition: The Freeing of Chiropteran
$3.99
(Please be sure to check book prices before buying as prices are subject to change)
As a serial killer terrorizes the city, Detective Danny Roberts finds himself facing a nightmare of his own when he is thrown into a secret, macabre world of vampires and dark forces.
Awakening with an unquenchable thirst, Detective Roberts turns to the bottle, but discovers that now only blood will satisfy him. When a mysterious text message arrives, Danny finds himself face-to-face with Mistress, a vampire investigator known as a Wolf Hunter.
As her thrall, Danny is bound by blood to serve this enigmatic protector of humanity. Singular in his ability to maintain freewill despite the vampire's hold over him, Danny is offered a unique proposition— join Mistress in hunting down the serial killers of the world and keep humanity safe from these wolves that prey upon the vampire's flock.
But there are even darker forces at work who would threaten the ancient peace between humans and vampires. With time growing short, can these unlikely partners uncover the threat lurking in the shadows, or will the truce between humans and vampires be broken, leading to the extinction of them all?
"Must read...a new, fresh breed of vampires, that will keep you enthralled to the end." -Reedsy Discovery 5-star rating                                                                                                                    
"...deftly plotted and executed with superior storytelling skills...with an irresistible appeal to readers who enjoy vampire stories and tales involving night creatures...compulsively readable" -The Book Commentary 5-star rating                                                                                              


"...plenty of murder, mystery, and action throughout...difficult to put down....Whether you're a long-time fan of vampire stories and are looking for a new spin on the genre or what to try something different, pick up a copy..." -Entrada Publishing, Honorable Mention book of the Year, Urban Fantasy                                                                                                                     
"...an enthralling story that melds urban fantasy and the paranormal to offer an unforgettable reading experience....The incredibly good writing and the enthralling first-person narrative voice combine with the author's skillful creation of memorable characters to complete an enjoyable reading experience." Reader's Favorite 5-star review                                                 
"...an exhilarating combination of the supernatural and crime, the product of which was sizzling...4 out of 4 stars would be the only reasonable rating for this fantastic book." -OnlineBookClub.com

Digital Books

Google Books
Book Length: Novel – 150-320 Pages
Leave a review about Wolf Hunter Inquisition: The Freeing of Chiropteran. Login Now