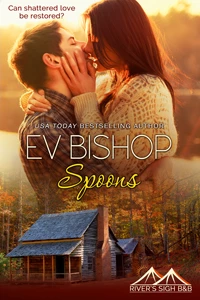 $3.99

(Please be sure to check book prices before buying as prices are subject to change)

---
Can shattered love ever be restored?

There's an extreme heat wave at River's Sigh B & B, but things have never been colder between Noelle Archer and her husband Cade.

Dragged there for a reunion with Cade's screwed up family, Noelle is confused, resentful—and considering divorce.

Noelle never would've predicted she'd be trapped in a loveless marriage, but Cade's more distant and aloof than ever, plus she's sure he had an affair. What other choice does she have? Husbands who cheat don't become faithful, and wives who put up with it become bitter and lonely. She won't have that for herself, and she won't model that for her children.

Cade has always clung tightly to Noelle, his beloved daughters, and their life together. He's not good at expressing himself, but he's been confident, even cocky, that if he's strong enough, works hard enough, provides well enough, Noelle will know how he feels. But now one moment of stupidity that wasn't what it appeared has wrecked everything. He wants her to believe in him the way his parents and brothers never have, with no explanations necessary—but maybe that's unfair.

He'll swallow his pride. He'll find the words. He'll do anything to fix their relationship. But what if it's too late?
Read More...
---
Paperback Books
---
ASIN: B01BJDVGAE
ISBN: 978-1-77265-001-3
---
---


© 2022 CraveBooks. All rights reserved