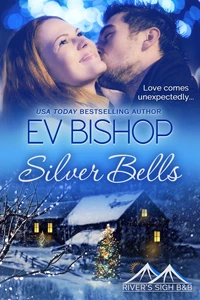 Silver Bells
By Ev Bishop
$2.99
(Please be sure to check book prices before buying as prices are subject to change)
Their love was an unexpected gift. Can it last?
Christmas, wonderful as it is, can also be a time when losses,
failures, and secret hurts hit extra close to home. It certainly is for
Bryn Hale and Sean Carson, two strangers traveling a lonely stretch of
highway in a brutal snowstorm.
Divorced by her husband because of her inability to have children,
and devalued by her family who sympathize with her ex, Bryn believes all
the negative things she's been told about herself. She decided long ago
that love and marriage are permanently off the table.
Special event organizer Sean Carson is mourning the loss of a dream.
Officially separated for six months, he finally knows beyond doubt that
the woman he was with for ten years doesn't love him and maybe never
has. All he wants is to love fully, totally and forever—and to have
someone love him the same way. But does that kind of relationship even
exist?
When a car accident forces their introduction and lands Bryn and Sean
together at magical River's Sigh B & B, Sean finds himself smitten.
Bryn feels the attraction too, but her desire for self-protection runs
deep. Plus, Sean has tipped his hand. He wants kids. It only makes sense
for them to go their separate ways, but matters of the heart don't
always follow logic. Bryn musters her courage and lets herself fall for
Sean.
Then Sean gets terrible-wonderful news from his ex: he's going to be a
dad. What will he do? Be the loyal, stand-by-your-woman man he's always
thought he was and go back to her—or keep his promise to Bryn?
Digital Books





ASIN:
B079DGSHXK
ISBN:
978-1-77265-012-9
Book Length: Novella – 60-150 Pages
More Books in this series from Ev Bishop