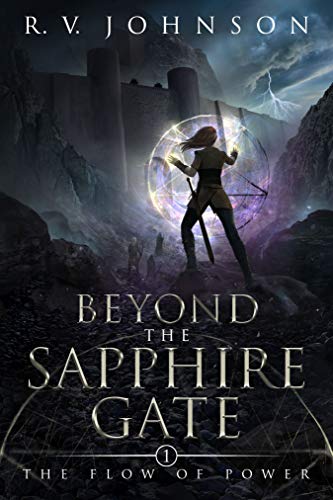 Beyond the Sapphire Gate: Book 1 (The Flow of Power (A Science Fiction & Fantasy Series of Dark and Light Magic))
By R.V. Johnson
Free

$4.99

(Please be sure to check book prices before buying as prices are subject to change)

---
Drawn kicking and screaming into a centuries-old war, can a woman on the brink of madness fulfill the realm's bloodiest prophecy?
Crystalyn Creek is a tenacious survivor in her fading, hi-tech birth world. So when she spots a tome full of strange symbols at her otherwise mind-numbing job, she's grateful for the distraction. But after her odd affinity for the book's designs inadvertently opens a portal, she's shocked when her carefree younger sister tumbles through.
Determined to pull her sibling back to safety, Crystalyn dives through the otherworldly doorway and becomes embroiled in an ages-long battle between light and dark magic. But when she discovers using her fascinating new power is slowly killing her, she's angered by the knowledge that her rescue mission could fuel the death of the land… and her own demise.
Will Crystalyn survive her dangerous quest to save her sister before the entire realm falls to its doom?
Beyond The Sapphire Gate is the intricate first book in The Flow of Power science fiction fantasy series. If you like captivating characters, richly detailed world-building, and surprising twist endings, then you'll love R.V. Johnson's struggle for survival.
Buy Beyond The Sapphire Gate to channel destiny today!

Read More...
---
---
Leave a review about Beyond the Sapphire Gate: Book 1 (The Flow of Power (A Science Fiction & Fantasy Series of Dark and Light Magic)).
Login Now


© 2022 CraveBooks. All rights reserved