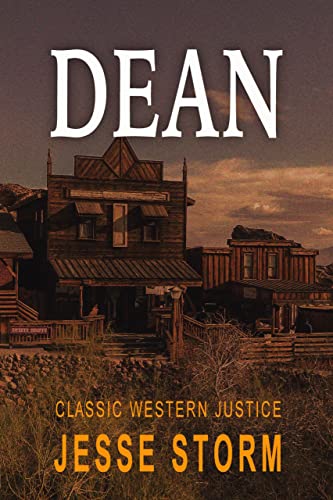 Dean
By Jesse Storm
$2.99
(Please be sure to check book prices before buying as prices are subject to change)
Dean Fairchild wants more from life but he doesn't see it
happening in the sleepy town of Winston, New Mexico. When his desires
get bigger than his town, and the teachings of his father the local
preacher, he runs away from home to find his destiny.

Joining up
with Nester Strong and his gang, Dean learns the subtle arts of robbery
and racketeering. Till it gets too much. There are lines that Dean will
not cross. When he witnesses a crime too heinous for his moral
sensibilities, he loots as much as he can and runs back to a home he
once knew.

But Winston has changed. Plagued with petty criminals
and a blight, he arrives to find no law or authority, and the
disappointment of his father. Wishing to turn a new leaf, Dean takes up
the mantle of sheriff.

But joining a gang is easy and leaving it is not. The Nestor gang is not prepared to give Dean and his town the peace he wants.

The outlaws raid the town and Dean must step up and finally be the man his father wanted him to be.
Digital Books

Book Length: Long Novel – 320-650 Pages
More Books in this series from Jesse Storm