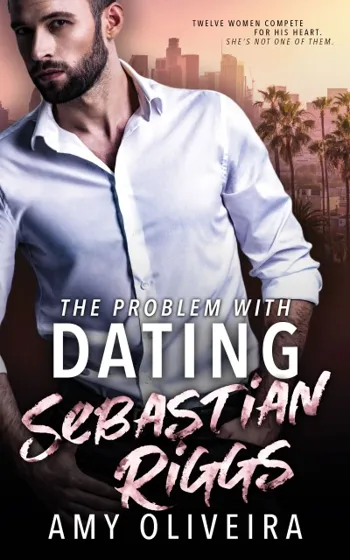 The Problem with Dating Sebastian Riggs
By Amy Oliveira
$4.99
(Please be sure to check book prices before buying as prices are subject to change)
THE MOST ELIGIBLE BACHELOR, TWELVE BEAUTIFUL WOMEN, AND A MANSION FULL OF CAMERAS.
Callie Sosa likes her job. No, scratch that. Callie loves and lives for her job.
Love Makeover has been a reality TV household name for the past twelve years. Callie is going for a promotion and she needs to prove herself this season. But things get complicated when the new Eligible, Sebastian Riggs, starts going off script.

Charming, sarcastic, and with a smile powerful enough to weaken the knees, Sebastian is perfect for Love Makeover.

The only problem is he doesn't seem very interested in the twelve hopeful women competing for his heart.
All his attention is on the little field producer with an attitude problem. Callie.
It doesn't matter how hard to resist it is. Callie can't give up on her dreams and fall for someone off limits.
He has a contract with the network.
He's just part of the job.
Nothing about this season will be like any other. Sebastian is going for what he wants. And all he wants is Callie Sosa.

Stakes are high, the mansion is full and you better don't miss this season of Love Makeover.

*A forbidden romance with a Latina lead and her British hero. Longing, banter, and guaranteed swoon.
Digital Books

ASIN:
B0B4F1G6LF
ISBN:
978-1-7397895-2-7
Book Length: Novel – 150-320 Pages
Leave a review about The Problem with Dating Sebastian Riggs. Login Now