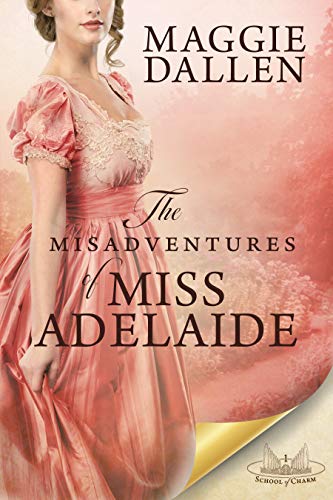 The Misadventures of Miss Adelaide: A Sweet Regency Romance (School of Charm Book 1)
By Maggie Dallen
Free

$3.99

(Please be sure to check book prices before buying as prices are subject to change)

---
This damsel-in-distress thought she was spilling her secrets to a doctor. Turns out? The gentleman is an Earl. He's also her new employer...

Miss Adelaide is down on her luck and on the run when she finally collapses at Evercliff Manor. Perhaps it's exhaustion that has her spilling her secrets to the kind doctor tending to her--or maybe it's his warm, compelling eyes. Then again, maybe it's just another case of sheer bad luck.

It turns out the kindly doctor who now knows her deepest, darkest secrets is not really a doctor at all. He's an earl. Worse, he's her employer. And he's decided that Adelaide will be his next project. With his assistance, and the help of her newfound friends at the newly formed School of Charm, Miss Adelaide might just land on her feet. If only she doesn't lose her heart...

Read More...
---
---
Leave a review about The Misadventures of Miss Adelaide: A Sweet Regency Romance (School of Charm Book 1).
Login Now


© 2022 CraveBooks. All rights reserved