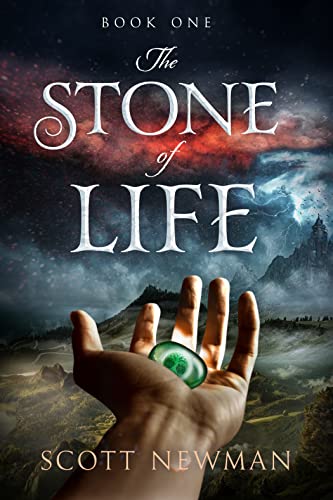 The Stone of Life (The Stones of Power Book 1)
By Scott Newman
Free

$3.99

(Please be sure to check book prices before buying as prices are subject to change)

---
How far would you go to follow your destiny?
On the outskirts of the Erakken forest, far from the political and magical wars in central Stonaria, the sleepy farming town of Elisar has been smiled upon by providence for the last twelve years.
Never questioning what gave rise to their charmed lives, the villagers always thought of the young Michael Anders as just a very lucky boy. But when his father is murdered before his eyes, Michael will learn that the lucky stone he always carries with him is, in fact, the legendary Stone of Life.
One of several fabled magical artefacts, the Stone of Life holds innumerable hidden powers. But it is also followed closely by death and destruction in the form of the dark wizard Deldamar, who will stop at nothing to unite the seven Stones of Power and become the new god of Stonaria.
To protect those he cares about, avenge his father, and defeat Deldamar, Michael must set out to find the other Stones. On his perilous journey, Michael will meet dryads and mythological warriors, fight off death demons, visit Spheria, the magical city and home of the fabled Crystal Sphere, and, ultimately, discover that his life is being governed not by luck, but foretold by fate.
Read More...
---
---


© 2022 CraveBooks. All rights reserved