Survival Handbook of Medicine and Medical Emergencies: Prepper's Off-Grid Essential Guide to Saving a Life
Survival Handbook of Medicine and Medical Emergencies: Prepper's Off-Grid Essential Guide to Saving a Life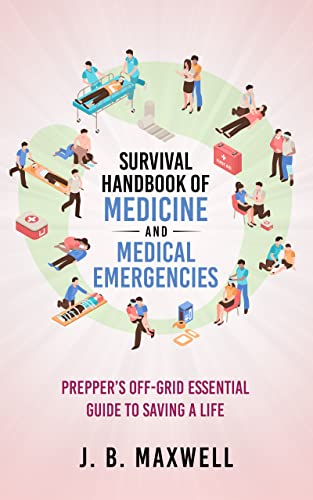 Survival Handbook of Medicine and Medical Emergencies: Prepper's Off-Grid Essential Guide to Saving a Life
By J. B. Maxwell
Free

$0.99

(Please be sure to check book prices before buying as prices are subject to change)

---
*What if you could have saved a life, but didn't know how? Do you want to be prepared for any desperate medical situation? If YES, then keep reading…*
" Depending on the situation a mere one minute delay in response time increases the mortality rate by 1 to 2%"
If you've ever felt helpless in assisting someone, whether it's a family member or a stranger, you're not alone.
In this life you can't count on the favorable odds of having a doctor or EMP nearby 24/7 to save the day.
Sooner or later in your life, you will be in a position where it's life or death.
It could be a loved one, a friend, a stranger, or even yourself. The question is, are you prepared?
This book is thoughtfully written to help you handle virtually any medical emergency you may encounter.
It's an off-the-grid handbook for surviving any medical emergency, even if there's no doctor, trained nurse, or EMP nearby.
In this book, you'll discover:
Natural Medicine Techniques

Joint and Bone Integration

History of Medicine

Advanement of Technologies

Growth of Biopharmaceutical Industry

Burn Treatment

Concussion Discovery and Treatment

Home Remedies

Basic Wilderness Medical Education
and much more…
You can save a life or stop an injury from becoming worse even if you don't have a lot of time, you are too young, too old, scared of blood, or not strong enough. Learning one concept or skill can give you the knowledge and confidence to turn a dire situation to a manageable one. In this survival medical handbook, you will find what you are looking for and much more.
So do you want to be prepared to save a life in any situation? Then scroll up and click the "Add to Cart" button now!

Read More...
---
---
Leave a review about Survival Handbook of Medicine and Medical Emergencies: Prepper's Off-Grid Essential Guide to Saving a Life.
Login Now

© 2022 CraveBooks. All rights reserved